Check In and Check Out Chartres Street
October 1 2021 |
News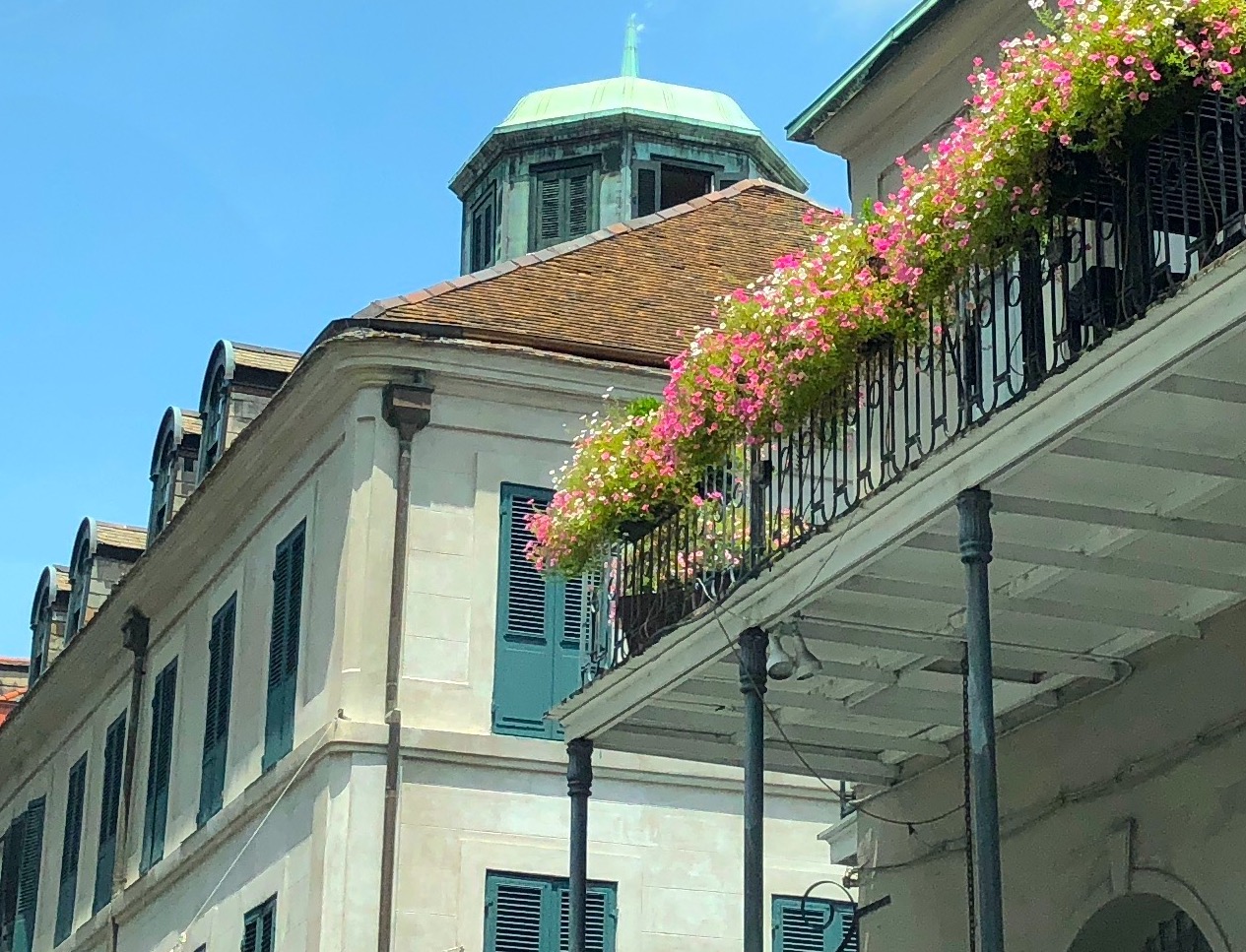 The world is finally getting back to normal. We invite you to celebrate with us at Hotel Provincial. We may be a little biased, but we think we're located on one of the loveliest streets in the New Orleans French Quarter–Chartres Street (pronounced CHART-ers). When you stay with us at 1024 Chartres, you'll go home with stories of people and historic events you'll be telling for years to come. Meet our neighbors:
The Original Pierre Maspero's , 440 Chartres
The 1788 building that houses The Original Pierre Maspero's is believed to have once been a coffee house frequented by brothers Jean and Pierre Lafitte and their privateer peers. They say General Andrew Jackson met the Lafitte brothers here to plan the Battle of New Orleans. Think about that while you eat your red beans and rice. Visit website.
Napoleon House, 500 Chartres
This 200-year-old landmark was once the home of Nicholas Girod, the mayor of New Orleans from 1812 to 1815. He offered his residence to Napoleon in 1821 as a refuge during his exile. While Napoleon never actually showed up, the name stuck. For years, Napoleon House has been a popular hangout for writers and artists. If you've never had a Pimm's Cup, it's time. Visit website.
Williams Research Center, 410 Chartres
The Williams Research Center, aka The Historic New Orleans Collection, is home to a museum dedicated to the preservation of our rich culture. Inside, you will find more than 30,000 library items, including documents, manuscripts, photographs, prints, drawings, paintings, and three-dimensional objects. A highlight is the Laura Simon Nelson Galleries for Louisiana Art. Learn more.
K-Paul's Louisiana Kitchen, 416 Chartres
The late great Chef Paul Prudhomme and his wife K opened K-Paul's Louisiana Kitchen in 1979. It wasn't long before the lines started forming out front and Chef Paul and his white cap became recognized over the world. For authentic Cajun and Creole cuisine, you can do no better. Tip: Order the bread pudding. Visit website.
Pharmacy Museum, 514 Chartres
America's first licensed pharmacist, Louis Joseph Dufilho, Jr., served his clientele in this 1823 apothecary shop. Here you'll find old lotions and potions, rare books, and fascinating pharmaceutical equipment dating to the early 1800s. Come if only to see the jar of leeches. Visit website.
The Cabildo, 701 Chartres
Hand's down, one of the most historically significant buildings in America is the Cabildo on Jackson Square. Built between 1795 and 1799 (it replaced a structure lost in the 1794 fire), the Cabildo was the seat of government during the Spanish colonial period. The Louisiana Purchase was signed here in 1803. It's now part of the Louisiana State Museum system and is filled with fascinating exhibits.
The Presbytère, 751 Chartres
Another jewel from the Louisiana State Museum is the Presbytère. While it was originally built to house clergy, it was actually never a religious residence (it was once used by the Louisiana Supreme Court). Today it is home two permanent exhibits. Mardi Gras: It's Carnival Time in Louisiana and Living with Hurricanes: Katrina and Beyond. Learn more.
Old Ursuline Convent Museum, 1100 Chartres
Completed in 1752, the Old Ursuline Convent is the oldest building in the Mississippi River Valley and the oldest surviving example of the French colonial period in the U.S. Over the years, the "treasure of the archdiocese" has been a convent, an orphanage, a hospital and a residence for bishops. Behind the main building, you'll find a walled courtyard perfect for reflection. Find out more.
Beauregard Keyes House, 1113 Chartres
This yellow house, built in 1826, was once the home of Confederate General P.G.T. Beauregard who ordered the first shots of the Civil War at Fort Sumter. A century later, author Frances Parkinson Keyes, author of more than fifty books and short stories including the mystery Dinner at Antoine's, moved in with his ghost. Get details.
We hope to see you back in New Orleans real soon. Remember, book direct for the best rates.
« All Listings