Jazz Fest Lineup Is All That Jazz And More!
January 14 2015 |
News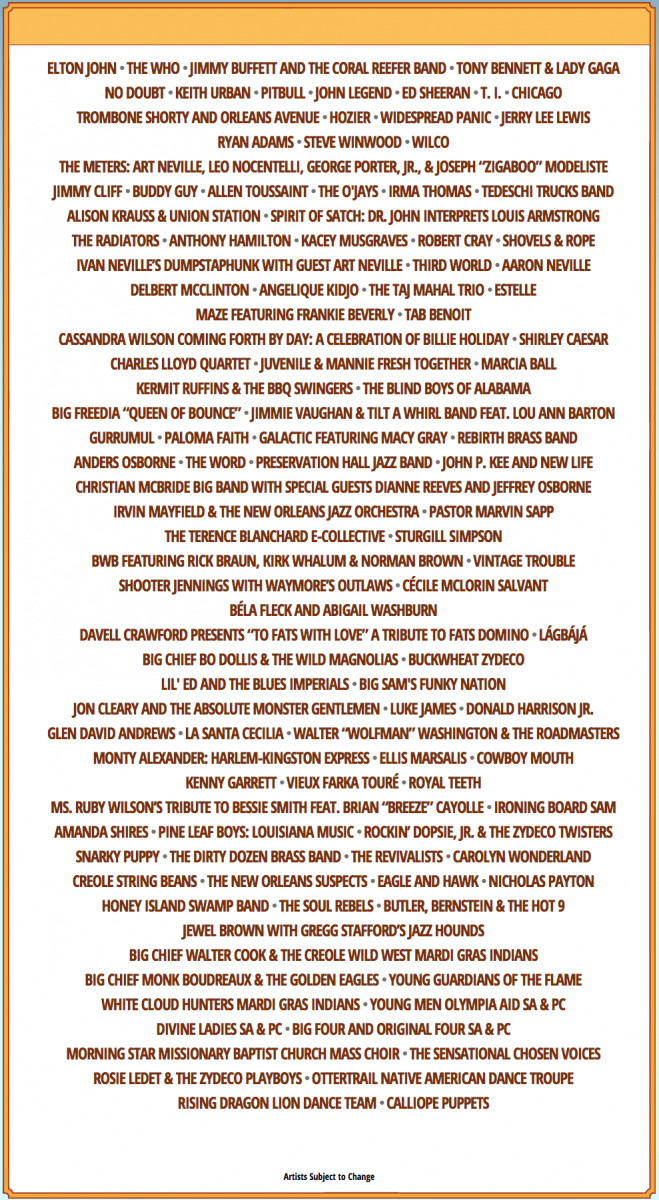 A New Orleans staple since 1970, Jazz Fest continues to shine year after year. The festival recently announced the 2015 line up—and this year is another can't miss event with some of the biggest names in music headlining! Combining classic legends with new superstars, the event features artists everyone will enjoy.
The headliners for 2015 include: Elton John, The Who, Jimmy Buffett, Tony Bennett & Lady Gaga, Keith Urban, Pitbull, John Legend, Ed Sheeran, T.I, Widespread Panic, Hozier, and more!
And that's just to name a few. A lot of local artists will also be performing, like Aaron Neville, Kermit Ruffins, Dukes of Dixieland, Shotgun Jazz Band, Allen Toussaint and more.
There's a reason why it's called the Jazz AND Heritage festival, though. Besides great music, there's also great food and crafts. Since the festival is always held at the Fair Grounds Race Course (from 11 a.m. to 7 p.m.), many festival goers love taking advantage of all the Louisiana-style fair food that's served there. Hundreds of local and regional artists will also be there, showing off and selling their craft bazaar. It's truly a unique festival experience.
Get ahead of the game by calling and reserving your room now! By staying with us, you can relax in a fabulous room or stroll around the French Quarter when you're not at a great concert.
Give us a call at 1-800-535-7922 or (504) 581-4995 to discuss booking a room. If you'd rather do everything online, you can check room availabilities and make reservations here.