July in NOLA
June 29 2017 |
News
Three cheers for the REDfish, WHITE Magnolias and BLUE Crab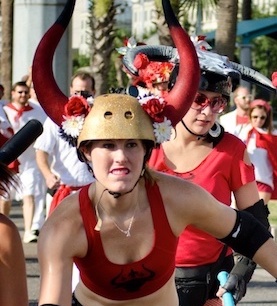 Okay, we're going to admit: It's hot in New Orleans in July. For just that reason, the City turns up the cool with some killer events and festivals designed to draw visitors here in droves. Luckily, Hotel Provincial has a divine pool as well. Imagine yourself lounging beside one of our two pools, sipping something cool and dreamy, before or after you head out to the fun. Beside the air-conditioning bill, here's what's up in NOLA this July
Essence Music Festival, June 29-July 2
This empowering festival draws huge crowds for the opportunity to see and interact with big-name artists and explore black culture with expert speakers from all around the country. This year's star lineup includes Diana Ross, Mary J. Blige, Chance the Rapper, Solange, John Legend and others. Learn more.
Running of the Bulls, July 7-9
Get your ole! on at the 11th Annual Running of the Bulls! Unlike the Spain version, the bulls that chase you down the streets of New Orleans are horn-wearing, foam-filled-bat-wielding members of the Big Easy Rollergirls (Tip: A little alcohol might just lessen the sting). Learn more.
Tales of the Cocktail, July 18-23
Come spend a week in the city that invented the cocktail! Every year, Tales of the Cocktail brings together the most respected talents in mixology for six sweet days of seminars, tastings, and special events. Learn more.