Monday Night Football: Go Saints Go!
September 26 2013 |
News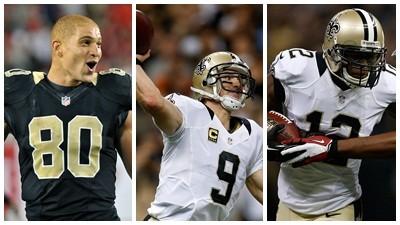 Alright, who else is excited to watch the Saints play Monday night against the Miami Dolphins? Payton, Brees and the rest of the krewe are off to an amazing 3-0 start! Let's keep that momentum going.
If you're coming to town for the game (even if you're Dolphins fan), Hotel Provincial has a room for you on Monday, October 30. For my fellow procrastinators, don't wait too much longer. I don't know how long these rooms will stay available.
Hotel Provincial located within walking distance or a very short cab/pedi-cab ride away from the Mercedes Benz Superdome, making us the perfect home away from home for Saints games. We're also located in the French Quarter, close to all of the pre and postgame festivities on Bourbon and Royal Streets.
If you're coming in from out of town, it's not too late to make a long weekend out of it. Come on Friday and Saturday and enjoy the historic flavor of the French Quarter and have time to explore the rest of New Orleans before the big game Monday night.
If you're a local, it's a lot easier to stay with us, enjoy the game, enjoy the night life and retire for the night to a relaxing room at our French Quarter hotel. It's a lot more relaxing then dealing with the bumper to bumper traffic with hordes of fans trying to get home after the game.
If you're a planner, the Saints will be back in town on Oct. 27 against the Bills, on Nov. 10 they take on Cowboys, Nov. 17 against the 49ers, Dec. 14 they battle the Panthers and their last game of the season is Dec. 29 against the Buccaneers.
« All Listings